Why Financial Advice Matters
TRYING TO MAKE IMPORTANT FINANCIAL DECISIONS IS DIFFICULT.  A PROFESSIONAL CAN HELP YOU WITH GREAT ADVICE AND HELP YOU REACH YOUR GOALS.
We all have goals and many are linked to our finances. From paying for higher education, to meeting health-care needs and other foreseen costs. Likewise, goals also change, all the way through to retirement. Trying to make investment decisions while juggling all these financial goals on your own can be overwhelming and time-consuming. Sometimes leaving you in doubt whether you've made the best financial choice. Good financial advice will go a long way in assisting you in making the right decisions, helping you sleep at night. Therefore, consider working with a Financial Advisor. They have the experience to help create and implement a wealth plan that takes your specific goals and circumstances into account. 
HOW A FINANCIAL ADVISOR CAN HELP
Managing your finances is more than just making investment decisions. It begins with having a thorough understanding of your situation; including expenses, investments, aspirations and family dynamics, as well as your goals. By working with a Financial Advisor, you can determine an asset allocation strategy to help you reach your goals, then put those strategies in place. Your Financial Advisor can also work with your tax and legal advisors to help create a personalised plan. This can help suggest different ways to help reduce your taxes, incorporates estate and philanthropic goals and help cover your future health-care needs.
TIMING IS KEY
Financial advice can also help you avoid making sudden decisions based on bad timing. Many people have a tendency to pull money out of the stock market when prices are falling. And buy into the market when prices are rising. This can cause investors to overpay for stocks or miss out on buying opportunities in the market.
Our financial advice team here at Praescius can also give you access to our own in-house tailored investments. This can provide returns that don't correlate with the broader market, while also helping you manage risk. Our Financial Advisors will also team with your tax advisor to work toward helping you keep more of your investment returns.
GET ADVICE, THE EARLIER THE BETTER
Good financial advice is not just about investing money. This is simply an outcome of good advice once you are in a position to do so. Financial advice will help you understand your options and also contextualize how urgent any action on your position is. For those who have no experience of recessions and market downturns, the most misunderstood factors are time and multiplier effects. Time relates both to the period of time you have to take action around selling. As well as the time you may be forced to hold an asset before you are in a position to sell it. Multiplier effects refer to the impact of something bad (or good) occurring in one part of the economy and flowing through to other parts.

Good financial advice will factor the impacts of the above. And it will help you to decide whether you have options to improve your financial position.
MAKING THE MOST OF YOUR FINANCIAL ADVISOR
If you're already working with a Financial Advisor, be sure that you are taking advantage of all the financial solutions the firm can offer. For example, many firms offer digital tools, including online spending and budgeting applications, tracking your investments held elsewhere and lending products. Therefore, you should meet regularly with your Financial Advisor to help ensure that your plan is kept up-to-date and reflects your current goals. Best of all, working with your Financial Advisor enables you to have someone who understands your goals, while looking out for your financial future.
CAN WE HELP YOU WITH THOSE DECISIONS YOU ARE WRESTLING WITH?
Praescius' Advisors are a professional team of qualified advisors who understand legislation, the latest changes and the importance of holistic planning. They can assist you with advice you need to maximise your financial position, or in times of hardship, minimise your exposure. So if you would like more information, or assistance on anything written about in this blog, you can fill in your details here and we'll get back to you as quick as we can.
– 4 November 2020 –
General Advice Warning
In preparing this article, Praescius Financial Consultants NSW Pty Ltd, Praescius Financial Consultants NT Pty Ltd, Praescius Financial Consultants HB Pty Ltd and Praescius Financial Brisbane Pty Ltd have not considered your personal circumstances, goals or objectives; as such the information, commentary and assertions made within this article may not be suitable to you.  Please seek personal financial advice prior to acting on this information, or making a decision regarding the choice of a financial product or strategy. Further information and disclosures can be found in our Financial Services Guide or by contacting us on the phone numbers provided.
Praescius Financial Consultants NSW Pty Ltd, Praescius Financial Consultants NT Pty Ltd, Praescius Financial Consultants HB Pty Ltd and Praescius Financial Brisbane Pty Ltd are authorised representatives of Praescius Financial Holdings Pty Ltd ABN 14 610 960 980 AFSL 486455, 2a/57-59 Oxford Street, Bulimba Qld 4171.
More from insight in action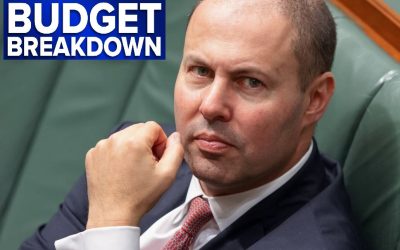 On Tuesday, 11 May 2021, Treasurer Josh Frydenberg handed down the 2021-22 Federal Budget, his 3rd Budget.
read more